Introduction
In a ground breaking discovery that has captivated the astronomical community, astronomers have recently identified a mysterious dark spot in the atmosphere of Neptune, our distant blue-hued neighbour in the solar system. The find marks the first time that such an enigmatic feature has been observed from Earth, shedding new light on the dynamics of this gas giant's turbulent atmosphere.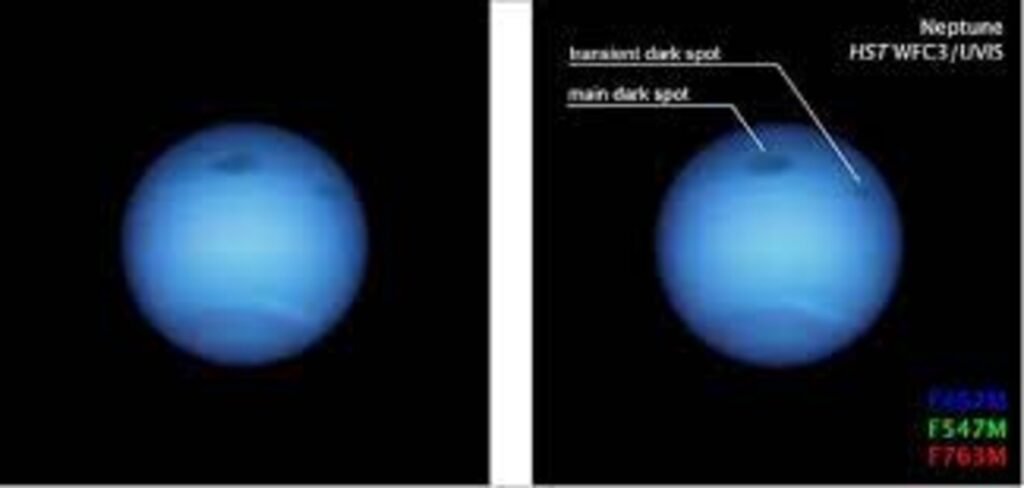 This celestial revelation was made possible through the powerful lens of the European Southern Observatory's Very Large Telescope (VLT) situated in Chile. The telescope's unprecedented clarity unveiled a shadowy anomaly within Neptune's swirling gaseous clouds, setting off a frenzy of scientific curiosity and speculation.
But the story doesn't end there. Alongside the dark spot, scientists also stumbled upon a smaller, unexpected bright spot nestled nearby. This double revelation has only deepened the intrigue surrounding these atmospheric phenomena, leaving researchers and space enthusiasts alike eager to unravel their secrets.
For years, giant spots have been a hallmark of gas giants like Neptune and Jupiter. The iconic "Great Red Spot" on Jupiter is a prime example of these captivating features. However, dark spots, shrouded in mystery and transience, have remained a puzzle until now. Even NASA's Voyager 2 spacecraft, during its 1989 encounter with Neptune, spotted a shadowy region dubbed the "Great Dark Spot." Yet, these enigmatic features have often eluded detailed study due to their ephemeral nature.
Lead study author Patrick Irwin, a planetary physics professor at the University of Oxford, reflects, "Since the first discovery of a dark spot, I've always wondered what these short-lived and elusive dark features are." Indeed, the current discovery raises more questions than it answers, propelling researchers into uncharted territory.
Vivid Contrasting
One of the most tantalizing aspects of this discovery is the vivid contrast between the dark and bright spots. While the origin of these spots remains elusive, researchers have ruled out the possibility that they are mere "clearings" within the cloud cover. Instead, they are contemplating the theory that the dark spots arise from a layer beneath the planet's main visible atmosphere, where air particles might undergo a darkening process. This hypothesis offers a fascinating glimpse into the complex interactions that shape Neptune's ever-changing atmosphere.
Additionally, the discovery of a previously unidentified deep bright cloud type has added another layer of astonishment to the observation. Michael Wong, a researcher at the University of California, Berkeley, USA, remarked, "In the process, we discovered a rare deep bright cloud type that had never been identified before, even from space." This serendipitous find underscores the profound impact of technological advancements on our ability to decode the mysteries of the cosmos.
As scientists continue to grapple with the implications of these newfound revelations, the discovery has heralded a new era in planetary observation. Gone are the days when we could only decipher such features by sending spacecraft like Voyager for up-close examinations. Advances in technology have elevated our capacity to discern even the most subtle details from our vantage point on Earth, as emphasized by Michael Wong: "Finally, technology has advanced to enable this from the ground."
Conclusion
Neptune's dark spot discovery is not just a scientific breakthrough; it represents a testament to human ingenuity, perseverance, and the insatiable quest to explore the universe beyond our planet. As researchers delve deeper into the enigma of these atmospheric anomalies, we stand on the cusp of uncovering secrets that may reshape our understanding of gas giants and their intricate atmospheres. With each observation, humanity takes a step closer to unraveling the cosmic tapestry that surrounds us, reminding us that the universe's wonders are as vast as they are beguiling.